9 Best Home EV Chargers UK (2023 Reviews)
Searching for the best home EV charger in the UK? Look no further!
This guide breaks down 9 of the most popular chargers on the market currently.
We look at the various features, price points and give our verdict on each charger.
So let's look at what EV charger might be right for you.
If you are short on time, our favourite is the Optimus, it's reliable, stylish and has a brilliant app, did we mention its one of the more affordable options!
It may be relatively new to the market but don't let that fool you, the Optimus electric vehicle charger is an excellent addition for any EV owner. It does exactly what you want from a charge point in terms of fast charging and reliability with so many fantastic additional features.
We'll start with the hardware, we found the appearance of the Optimus unit to be really visually appealing, the stylish matt black casing goes with any home, and it's built to be extremely durable. You are able to purchase the tethered or non-tethered version, and you are able to share your charger, basically renting it out and earning money from the network.
The app is another brilliant aspect of the model, unlike other brands where they lose focus on the app, GoZero has ensured its high quality. The interface is straightforward to use, it provides real-time data and is easy to plan scheduled charging sessions.
We can't finish the review without speaking about the customer service we received and the smoothness of the purchase from start to finish. The care they take in keeping you informed every step of the way is second to none and you get to book your survey and installation at a time convenient to you.
Great After-Sales Care
Compact Charger
No Earth Rod Needed
Reliable Charging Speed
We struggled to find a lot wrong with it
Price From – £570
KW Output – 3.7 / 7.2kW
Connection Type – Tethered or Untethered 
Features – Pen Fault Detection / Easy To USE
Appearance – Stylish & Lightweight 
Solar Compatible – No
Verdict – A popular and stylish home EV charger that is well worth its price.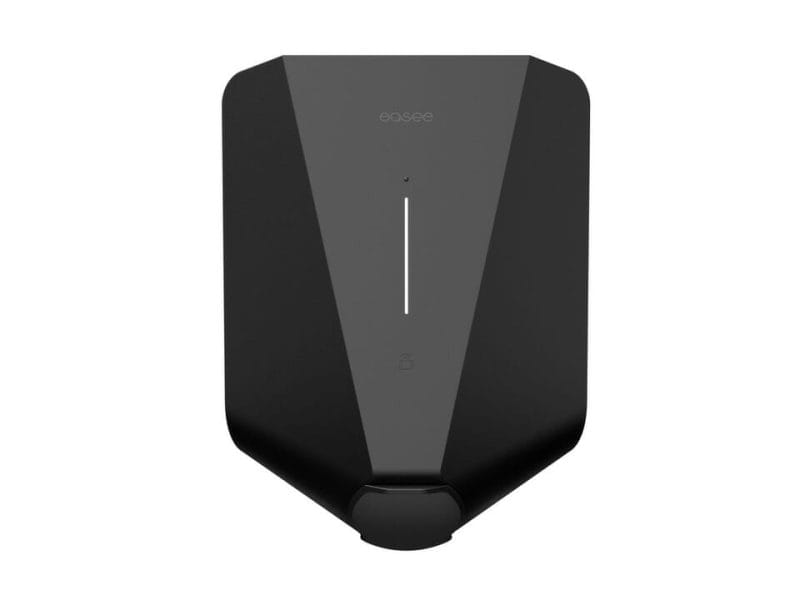 Considered by many as the best home charger, the Easee One leaves no stone unturned when aiming to produce a quality and durable EV charger for your home. Its popularity has gone through the roof in recent years and we're here to show you why.
Firstly, the charger itself is originally from Norway where it established itself as the market leader for EV charging. Following that success, they entered the UK market where they looked to become the go-to place for domestic chargers.
When we tested it, we found one of the main benefits is that it can offer you tethered or untethered charging, whichever you prefer at the touch of a button. If you have the correct charging cable, you are also able to use this EV charging station for any electric car.
Like many chargers, Easee One boasts a useful app which we really enjoyed using as it was easy to navigate and understand. It also helps you track and monitor how much electricity you're using and to schedule planned charges. It also has more than enough smart charger features to please the everyday customer.
Reasonably Priced
Stylish 
Tethered or Untethered Available
Good App
No Solar Integration
Customer Support Can Be Slow
Price From – £589
KW Output – 7.4kW
Connection Type – Tethered 
Features – Different Colours / App Easy To Use
Appearance – Small Design With Stylish Colours
Solar Compatible – Yes
Verdict – A more than affordable EV home charger and you can save even more money with solar.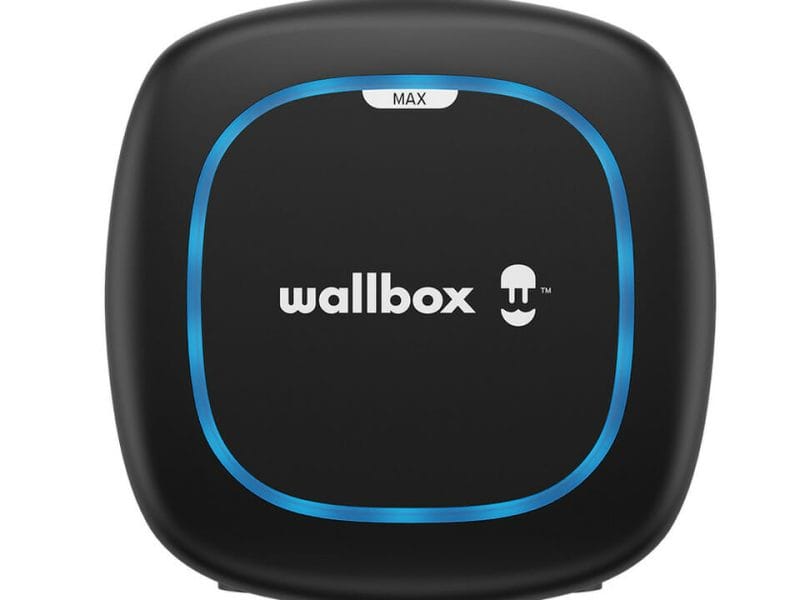 Based in sunny Barcelona, this brand is renowned in the UK due to its Pulsar Plus model which has been one of the best EV home chargers in recent years.
We found the Pulsar Max charger to be a very durable build whilst still having that small elegant design. Its range of colours means it can blend in or stand out with any home and it comes with a 5-metre charging cable which was useful if we didn't park right next to the charging socket. You can park in different positions on the drive and still reach the charging socket.
The app for this model is simple but has been designed like this to be effective. It allows anyone to use it and we were pleasantly surprised just how easy it was to navigate around the app and track your data. One of the other major benefits of this charger is that it's solar-compatible. 
Therefore, if you have solar panels on your roof, you can have this EV charger set up so that the energy from the sunlight is stored and then when you need to charge your electric vehicle, you can use the solar energy to do so.
This is a big appeal to people looking at an electric car, especially if you already own solar panels because your running costs for fuel or electricity go to almost nothing due to using solar power so you will save a lot on energy bills in the coming years.
Small & Compact
Various Colours
Solar Compatible 
5-Metre Charging Cable
Reviews of Customer Service Being Poor
Updates Can Be Slow
Price From – £949
KW Output – 7.4kW
Connection Type – Tethered
Features – Advanced App Software / Auto Syncs With Energy Tariff 
Appearance – Not As Appealing As Competitors 
Solar Compatible – No
Verdict – An expensive home charging station but one of the most trusted and reliable. 
Renowned for its excellent EV charging power and sophisticated app software, the Ohme Pro is a little pricey but without doubt one of the best home electric vehicle chargers currently available on the UK's market.
We were able to schedule charges using the app for whichever part of the day we wanted due to the software integrating with the energy tariff. You can save lots of money on electricity and energy bills by charging at night when fewer people are using the grid. 
The electric car charger aims to make charging an electric car all that much easier with planned times of charging and an advanced software system. We have to be honest, we didn't find it the most eye-catching but it is certainly is a smart charge point.
If you don't want to use the app like us all the time, the home charger does boast a sleek screen on the front that we tried multiple times to charge our electric car. Whether that's as soon as you pull up and park or later in the day, it's entirely your choice. It's also worth mentioning that its one of the smallest EV chargers available for an electric car.
Brilliant Customer Service
High-Quality Hardware
Excellent Scheduling 
Advanced App Software
Quite Expensive
Only Available As Tethered
Price From – £799
KW Output – 3.6 / 7 / 22kW
Connection Type – Tethered or Untethered 
Features – Durable Design & No Earthing Rod Required 
Appearance – Sleek With Grey & Black Colours
Solar Compatible – No
Verdict – A well-established home EV charger brand that offers quality charging.
Probably the most well-known brand in the EV charging market. Every Pod Point is renowned for its excellent build quality, affordable costs and sleek style and the Pod Point Solo 3 is no different. After seeing it up close and having a feel of it, it's definitely one of the more robust options out there.
The Solo 3 is an upgrade to the original solo and has some great additional features with a built-in PEN fault detection system and a more robust design to withstand the elements. 
The tethered version of this home EV charger has a 4.8-metre cable which is a decent length, whilst the untethered version is universal and you can charge all electric cars using it, although there is no charging cable that comes with this one.
The over-the-air updates were very useful and are available when you connect to your WiFi in your home. This allows you to unlock new features, receive customer support and get automatic software updates. One of the areas I loved was the Pod Point app, as it was very simple and easy to use.
Trusted Brand
Aesthetically Pleasing
Automatic Software Updates
Built In PEN Fault Detection System
Pre Installation Could Be Improved
A fantastic electric vehicle charger that gives you solar access and is actually probably the most well-known brand for this feature. Due to its solar compatibility, it's not the cheapest but it's an excellent purchase that will save you money in the long run if you have solar panels on your roof.
As soon as it arrived, we found the style of the EV charger to be clean and it's easy to see why it's one of the most sought-after home electric car chargers in the UK. You can monitor your solar and energy usage in the home through the app which is easy to navigate. It has a lovely smooth interface with no real issues at all when in use.
The Zappi also offers something called surplus solar divert. This is where the charging station actively monitors solar PV output and will divert any surplus energy from your panels straight into your electric vehicles. This would otherwise go back into the National Grid.
This feature isn't to be confused with solar matching which is when your car is charging but the power could be coming from both the solar and grid demand. The Zappi is one of the best chargers and will use just power that's come from the solar panels.
Fast Delivery
Excellent Build
Easy To Use App
Surplus Solar Divert
Price From – £1099
KW Output – 22kW
Connection Type – Tethered 
Features – Longer Cable Available / Cable Tidy Feature
Appearance – Sleek With Range Of Finishes / Very Big
Solar Compatible – Yes
Verdict – A stunning home charger with great finishes but is also expensive.
Along with the Zappi, the Anderson A2 is also world-renowned for its solar compatibility. The pair lead the way for EV chargers who want to use solar energy. We believe the Anderson charger is probably the nicest to look at and we were able to actually hide the cable within the charger shell during installation so there were no loose cables hanging off your house. 
There are a variety of colours available with this model and you can even upgrade the cover to a wood finish so that it looks even sleeker. We opted for the Cotswold Oak Accoya and there is an additional cost of £150 for this and a 22kW output option is also available for house owners with a three-phase power source.
Unfortunately, when using the smartphone app it wasn't quite as advanced as some of the other models but is more than capable of doing the basics. The style and price of this chargepoint are top end but the Anderson A2 does offer quality throughout. 
One of the more stylish home EV chargers that are going to last due to its excellent durability and high power output meaning your electric vehicle can charge faster, then the Anderson has to be on your shortlist. 
Very Clean & Stylish
Solar Compatible 
Range of Colours
22kW Option
Tesla Wall Connector Charge Point
This is the third version of the Tesla Wall Connector and it's safe to say it's had some considerable upgrades among other things. We found it to be more visually appealing than its predecessors and has also had some hardware upgrades. 
You would think this home charger can only be used for the Tesla vehicle, and whilst that is its primary aim, it is able to charge other cars.  The service installation process was straightforward, although you do have to get the Wall Connect directly from Tesla as an OZEV approved installer won't have this.
As with most of the domestic charging points for a home, it's durable, lightweight and aesthetically pleasing so it won't look out of place when installed on the side of our home.
A great option for anyone who owns an electric vehicle, but if you do own a Tesla, (I don't) you should definitely check this connector out as it's been designed for Tesla owners especially.
Used On Any EV
Reliable Charging
Lightweight
11.5kW Option
EO Mini Pro 3 Home Charging Point
It may be bottom of the list, but we still rate this charger highly after trying it out. The charging station is great if you have a small space or don't want the charge to take up too much room on the outside of your house. When picking it up we noticed just how small, compact and stylish it is, which makes it appealing to a lot of owners.
The process for installation was easy and is available tethered or with a universal socket. The home charger doesn't have a screen like some others, but the EO smart home app means you can monitor and plan charging sessions remotely. 
Like any good charger, the model allows you to choose between 3.6kW to 7.2kW output, and you can pick from a small selection of colours so that it matches your home. There is also a locking feature for extra security should you need it, we didn't!
The ease with which you can use the smartphone app is appealing, as is the price of this charging station, as it is in the mid-range, which makes it another standout candidate from some of the more expensive chargers. 
Superb App
Trusted Brand
Extra Locking Feature
Mid Range Price
How To Choose Home EV Chargers
It's all about personal opinion and what your home needs in terms of charging. You have to take into consideration a variety of factors including:
Power Output  (kW)
Charging Speed
Space for Installation 
Price
There are other factors but these are just some that should influence what EV chargers to look at when deciding for your electric vehicle. It's important that you browse the different chargers and get an understanding of the pros and cons of each before jumping straight into a purchase. 
One may have something like a more detailed app, this may not suit you as much so it's not worth paying the extra price for gadgets or features you do not need. This is the sort of stuff to look out for.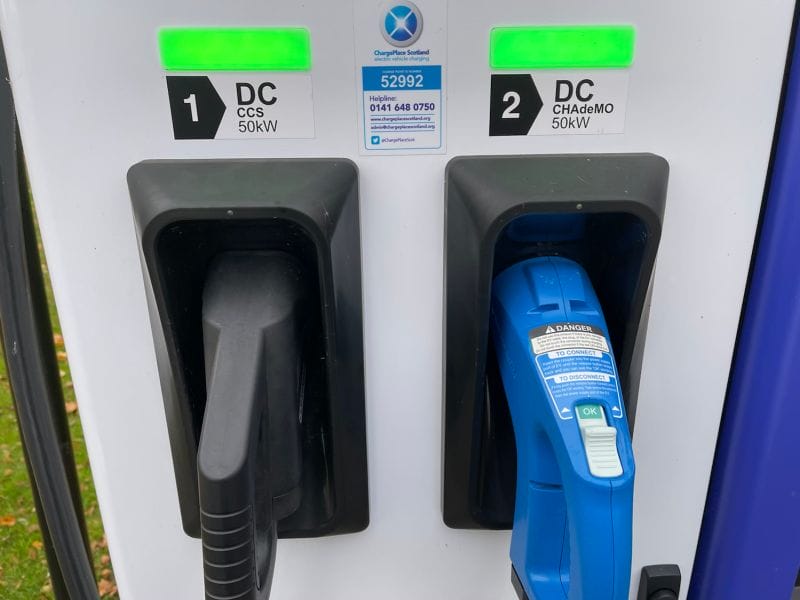 One of the main features people look at is charging speed. You don't want to have to wait hours to charge your car if there is the option to have a higher output which will ultimately charge your electric vehicle faster.
Most home chargers will have a 7kW output which offers a fine charging speed and is useful when you want to charge your electric vehicle overnight and wake up in the morning to a full battery. But there are options to go up to a 22kW on some models, but you have to remember that the quicker you charge the faster it can deplete your battery range in the coming years.
If you want to be done quickly when electric car charging then we suggest the Anderson or Pod Point, however, if you are happy to just let your electric vehicle charge overnight, then any of the other models would be sufficient on a 7kW output.
Smart Charging is essentially managing your electric car about when it charges and is connected to the grid. It also refers to a system where an electric car and charging device share a data connection and then the charging station also shares a connection with the charging operator. This means EV owners can monitor their schedules, costs and more through an app because all of it is synced up together. 
There are a number of features and benefits to smart charging and smart chargers. The first is that you charge faster and safer because the smart device will automatically use the maximum allowed energy it can use. This may be 7kW or 22kW when at home. Fast charging stations up and down the country can go up to 150kW. 
Secondly, you are able to use the app to find charging points up and down the country for your electric vehicle. You can reserve your spot and see all the live data from that station about power and availability. 
Another major benefit is that you can charge when it suits you, so charging at night is by far the cheapest as there are fewer people using the National Grid. By planning your sessions like this, you can save a considerable amount moving forward.
Why Use Electric Vehicle Chargers At Home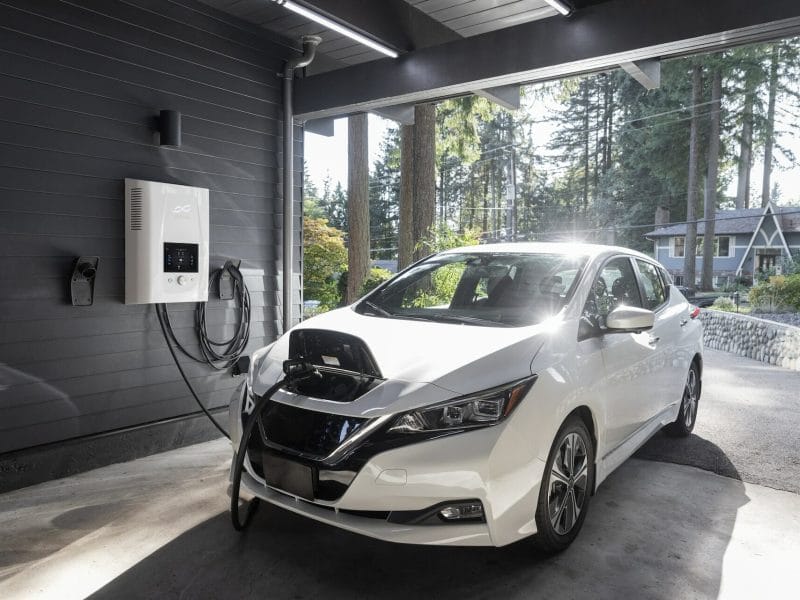 The reason you should use a point at home is that its far cheaper and much more convenient than using public chargers. Motorway services and supermarkets have the added benefits of rapid charging, but you'll certainly pay more for that. Compared to being at home where you can let it charge slowly at a far cheaper rate.
Also, you don't want to be travelling early in the morning or late at night to sit at a shopping centre or supermarket waiting for your electric car to charge. You'd much rather be in the comfort of your own home whilst your vehicle is parked on the drive charging. 
If you have solar panels on the roof then you will save even more money, but anyone who buys an EV should definitely have a charging station installed at home. If you don't, you are making your life that much more difficult and you won't enjoy having an EV. You'll spend more time thinking about where are you next going to charge it, rather than just enjoying all the benefits an EV provides. 
We hope this review article helped answer your question regarding what is the best home EV chargers in the UK and what sort of brand you should be looking at. Each one has its own USP and it's down to you to decide which is the ideal choice for your home.
Most chargers are reliable but our personal favourite is the Pod Point Solo 3 due to its robust design, sleek look and ability to charge at various power outputs. This is something a lot of charge points don't do and just have a standard output, it's constantly been one of the top features EV drivers notice.
If you enjoyed this complete guide, feel free to browse the rest of the website and view different EV charger brands on our main page and other articles related to installation, travel, and more!