The Biggest EV Charging Companies in the UK
With the EV market rapidly expanding, the charging infrastructure needs to grow at a similar rate if we are to adopt EV's into everyday life. 
There are several companies that have emerged and are investing heavily to meet the demands of charging both in public and at home. 
In this article, we take a look at the largest companies operating and what each of them is offering and contributing to the EV industry.
BP Pulse is based in Milton Keynes and is the largest charging network in the UK, with over 7000 charging points across the country. It was founded in 2008 in Luton and has grown to employ over 200 staff.
They also provide workplace charging and home charging solutions. There by far one of the most trusted and recognised brands in the EV industry and have been serving millions of people over the years.
When charging at supermarkets, shopping centres and motorway service stations, you will have access to up to 150kW and easily pay through their app. This will also save you money and you can get discounts when you sign up for one of their subscriptions.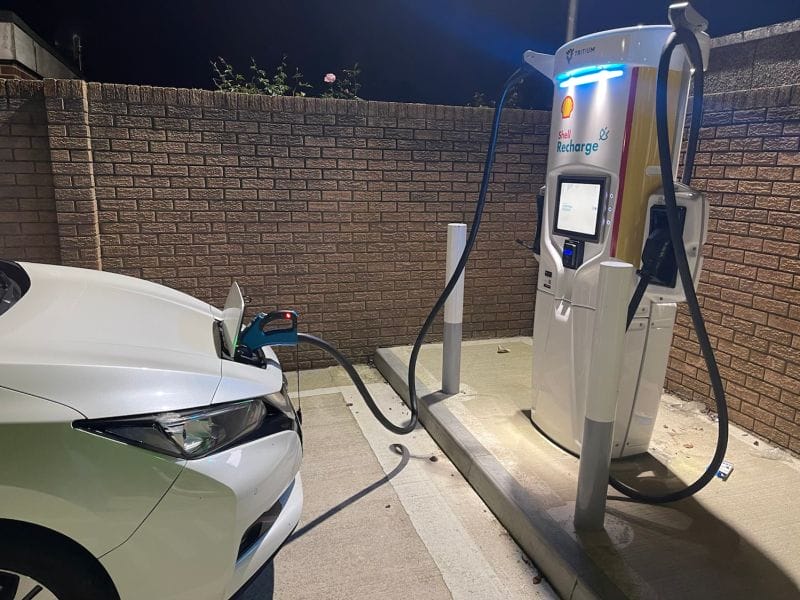 Renowned globally for being a major oil company, Shell Recharge is actually a subsidiary of Shell that has been created to focus on the EV market. Shell Recharge focus more on quality than quantity and only have 230 charging points in the UK, providing renewable energy. 
It currently has 65 rapid chargers with a charging speed of 50kW, whilst there are 54 ultra rapid DC chargers with an output of about 150kW. This allows you to charge your EV in up to 80% in under an hour. 
It's worth noting that they might not be the cheapest places to stop and charge but they do guarantee 100% renewable energy from their charging units. The Shell Recharge network aims to have 5000 charge points installed around the UK by 2025.
Pod Point is a company that was founded in 2009 and is based in London. It specialises in providing electric vehicle charging stations for homes, businesses and public use. 
It has partnered with some of the biggest supermarket brands in the UK, including Lidl and Tesco and has a good spread of charging points right across the UK. 
The Pod Point App is the easiest way to find one of the 8200 public charging bays available and depending on your battery size and charging speed, it can take anywhere from 30 minutes right up to 12 hours.
Tesla is a multinational automotive and clean energy company founded in 2008 in California by Elon Musk. It currently has two charging networks, which are called Super Charger and Destination Chargers.
There are currently around 880 superchargers spread across 90 locations in the UK. Whilst there are a lot more destination chargers which can usually be found at hotels, restaurants and where people are likely to spend a considerable amount of time.
You can expect Tesla to carry on expanding and we will no doubt see a lot more charging points on UK roads in the near future.
This is Scotland's national electric vehicle charging network, with over 2400 charge points by the end of 2022, that's a big increase compared to the 55 it had in 2013. 
It is owned by the Scottish government and is funded through organisations, local authorities and public grants. To access the network, you must register and download the app but it's very straightforward. 
You must also order an access card which will cost you £10 as a one of fee and it will be added to your account.
Founded in 2010 in Amsterdam, Netherlands, EV Box currently has the largest amount of EV charging points, with an estimated 60,000 globally. It also boasts 700 fast charging stations. 
The company will provide you with the EVBox software, which allows you to easily manage when charging your electric vehicle. 
Apart from being involved in the charging network side of things, it also sells charging units and wall models with fixed cables.
Other Companies To Look Out For
InstaVolt – This company installs, runs and maintains ChargePoint units and uses a pay-as-you-go system for easy access. 

Osprey Charging – Osprey has over 480 charging points in the UK and allows convenient rapid and ultra-rapid EV charging.
There you have it, some of the biggest companies in the UK at the forefront of the public charging infrastructure. They all contribute in their own way, with BP Pulse, in our opinion, the flagship for the UK, but with rising demand for EV's and more on the roads, you will no doubt see more investment from the other companies and maybe even some new ones that enter the market. This can only be a good outcome for the general public as we transition into the era of electric cars.
We really hope you found this guide useful, there are plenty of other interesting articles regarding electric vehicles on our main hub page.