Electric Car Charger Installation Cost
Learning what electric car chargers to install is one of the few things people forget about. 
Buying the EV is the nice part, but where and when are you going to charge it?
You don't want to have to go to public stations every time to charge, which is why people a home charger installed.
But how much do they cost? 
Let's take a look…
How Much Does It Cost To Install An EV Charging Point?
We'll cut straight to the point, it usually costs about £700 to £1200 pounds for an electric charging point to be bought and installed at your house.
Many people buy the charger through an approved company that will also set youtube with one of their installers so the price is combined all into one. This will be the same all over the UK, prices don't fluctuate depending on where you live.
Many people decide to save a lot on the cost by buying the charger separately and then hiring an electrician they know. This is fine and will save you money, but your electrician should know what they're doing installation otherwise the home charging point could be rendered useless if done incorrectly.
Breakdown Of Electric Car Charging Costs
With the different charger types, you're ultimately paying for speed. For example the cost for:
3.6kW – £800 – 17 hours to charge
7kW – £950 – 9 hours to charge
22kW – £1200 – 3 hours to charge
As you can see from the cost table above, the quicker you want your electric vehicle fully charged, the higher you're going to pay in costs for a home charger installation.
The most common option is 7kW because although you are allowed 22kW in homes, many don't work in UK homes as they don't have a three-phase electricity supply which if you wanted would be an extra cost.
So if you want to spend more upfront but have a faster-charged car, we would suggest 7kW, if not the 3.6kW is perfectly suitable, you would just have to plan a bit more as it takes a few more hours for a full charge.
How Is An Electric Car Charger Installed?
An electric car charger is installed close to where the main electrical feed enters the property and this is usually on an exterior wall or sometimes in a garage. Whatever company you decide to go with will provide a home survey usually free of charge to make sure everything is in order and the electric car charger installation can be completed. 
If you require any upgrades to your electricity supply, this will have to be done before the electric car charging point can be installed. It can be a lengthy process as you will likely have to speak to the electricity infrastructure company.
Once this is fixed, you can have your home EV charger installed by an expert. They will connect the wiring to your fuse box and many companies provide the home EV charger and installation as one package and it's sometimes worth doing this as you have someone to call if anything does go wrong. An isolator switch is also installed and you won't have to pay for materials except for the charger, the wiring and cabling are all included and each installation normally takes 2-4 hours depending on the complexity.
What Do You Need to Install an Electric Car Charger?
Before having a charge point installed, there are a few things you need to have in order before starting the installation process. These include dedicated off street parking so that they can install EV charging point easily close to the electric vehicle. Secondly, Wifi is required for the charger and a smartphone as they all come with sophisticated apps allowing you to control the charge point. 
Next, a suitable electricity supply but this should already be arranged when the home survey was conducted. The location of where you park your car should also be close to the unit as the charging cable can only reach so far. You can speak with the installer for more complex installations but it will also cost you more money.
Lastly, if you own the property, you are fine you don't need to worry about this point. However, if you rent, you must get permission from the landlord, you can't just have an electric car charging point installed because you want or need one.
Are Home Chargers Worth The Installation?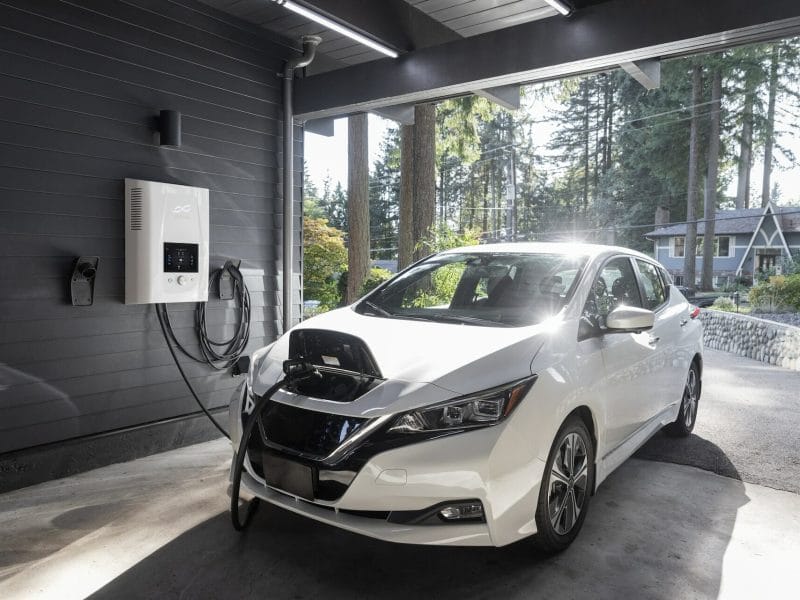 Yes most definitely! If you spend on average £900 upfront for your smart charger and installation, you can expect to break even on this cost with the charger in just two years!
On average, the cost is 2.8 times cheaper to charge an electric car and electric car batteries than it is to fill up with petrol. This means on average you'll save about £1000 per year on running costs by switching from a petrol vehicle to an electric one.
You don't have to get a home charger, you can always use the public charging points dotted all over the UK such as rapid chargers, but these are up to 50% more expensive to use. We don't want that additional cost! 
It's also not recommended to use a regular plug socket which is a slow charger as they are not designed for such high amounts of electricity for a duration of time.
This means, that by purchasing a charging point, you will save just under £450 a year on average. So, within 24 months, you will have broken even on the cost of a car charger at home.
Government Schemes To Help With Cost Of Having A Charging Point Installed?
At the minute, there are currently 4 government grants to help with the cost of electric cars, however only one of them applies to home charging installation. This scheme is called Electric Vehicle Homecharge Scheme (EVHS).
The office for zero emission vehicles announced that the scheme and government grant are only open to people who live in flats or rented accommodation. The scheme itself helps plug-in vehicle owners offset up to £350 from the cost on their EV charger for their home. There are some requirements you will need in order to claim, these are:
Home with off-street parking
Your electric car is eligible
Get an approved installer to carry out the work
If you fit these criteria then good luck as you are allowed to apply for this government scheme.
EV Charging Cost Examples
Here are a few examples of costs and prices for chargers by themselves without them being installed, we found these online but they can fluctuate regularly:
Vorsprung EV Charging Unit – £480
Wallbox Pulsar Plus – £545
Ohme Homer Pro – £649
Easee One – £589
As you can see these are the average cost and prices for the charger by itself when you go through approved installers and electricians that's when you end up paying about £900+ for the whole service.
Electric Vehicle Charger Cost For Business
If you own a business and want an EV charger installed there, you can actually apply for the workplace charging scheme which for every single installation, the government contribute £350 towards the overall cost.
You can have up to 40 installed per person as long as they own the company, but a key thing to remember is that the grant cannot be used for parking for your own customers.
The cost will be between £500 – £1000 per charging point.
Factors Affecting A Charger Being Installed
Below are some of the factors that affect costs of implementing an electric car charging port:
You will pay considerably more to have a higher power kW which will in turn make your car charge quicker.
Replacement Unit/Circuit Breaker
If your home doesn't have the necessary electrical supply to power your electric vehicle, then your cost is going to be a bit higher as you'll need a six circuit board swap which means taking yours out and replacing it with one that can charge your car, this is just additonal costs unfortunately. 
Location of Car Charging Station
If the charging station is away from the consumer unit this could mean additional fees for labour and equipment which add to the charger costs.
Electric Car Home Charging Point Requirements
An EV charging unit should not be within two meters of a scheduled monument, public highway or around a listed building.
A qualified electrician will have to ensure the charger is placed correctly and consider certain regulations when carrying out an ev charger installation.
A sim touch is a metal object connected to your electric supply, and the charger cannot be installed within 2.5 meters of this. This can include a street lamp or light with a metal casing, so you may have to move the electric car charging station depending on these factors.
Is Planning Permission Required For An EV Charger?
For a wall-mounted EV charger, no planning permission is needed. As long as your electric car is on off-street parking then you will be fine.
If you are still unsure about your rights regarding if you are allowed to install, then check with your local council and they can provide details on the regulations around installing an electric car charger.
Will Charger Costs Decrease?
Yes, we can't say for certain, but we do expect the installation costs of home charging ports to come down as well as the price of an ev charger themselves. EV chargers are already far cheaper than what they were a few years ago and we expect this trend to continue.
With electric vehicles being at the forefront of the car market, it's only a matter of time before millions more people have a charging point installed.
We hope that helped answer your question and give you a rough idea of what to expect when looking at cost. You can have it done by approved companies who supply the charger and electrician.
Or you can decide to buy the charger separately and have a local electrician install it which is just as good as long as they know what they are doing and some prior experience in installation would be useful.
To find out more about the costs involved to maintain an electric vehicle, see our other guides.