Hypervolt Home 2.0 Review
The Hypervolt is without a doubt one of the most stylish chargers on the market. Made in Britain and with its distinctive back lit volt logo, it certainly fits well with most homes.
But it's not all about looks, is it? How does it perform?
In this Hypervolt review, we discover what benefits and drawbacks it has and how it compares to other chargers on the market.
Let's not wait any longer…
Pros
Stylish charger
Superb app
Solar intergration
Voice control
What Is The Hypervolt EV Charger?
The Hypervolt Home 2.0 is a high-quality home charging unit which is also aesthetically pleasing. Its reasonable price means its accessible to the wider market and it has been thoughtfully designed with a built-in cable tidy and LED status light ring.
The app has outstanding reviews which is one of the major parts that set the Hypervolt apart from other chargers. You also have the added bonus of voice control through Alexa and Wi-Fi + 4G connectivity.
As with all chargers, there are a couple of drawbacks but these are minor and we go into them in more detail further down the page.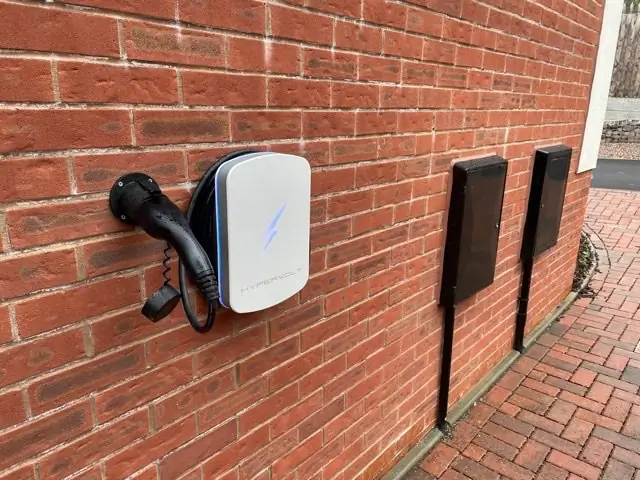 In terms of design, the Hypervolt is actually around medium size. It's not tiny where you would hardly notice it but also not huge where it stands out, in our opinion, it's just the right size. It's not only flawlessly smart but it's also quite a slim charger measuring 101mm at its thinnest point.
It comes in two different colours, white and black. We really like both, but prefer the black slightly as it draws less attention to itself when the unit is attached to the side of your home.
You no longer have to worry about hiding the cable either as it has a built-in cable tidy and the body of the charging unit hides the 5m tethered cable. It's really useful and makes the whole unit look more clean and professional.
If you want, you can also add a charger holster which is where you place the charger head. This is optional but if you didn't get one, the head would just hang down over the charger when you wrap the cable around it.
Drawing from our experience, one of the key benefits of this charger is the fact it has built-in PEN protection, which means no earth rod is required. It also has 6MA DC RCD protection built in which means only type A RCD + 32A MCB  is required at the source.
It has its own cable which is called the HyperConnect cable and is available as a 4mm CSA 3 core cable in both non-SWA and SWA formats. You will receive an installation kit that includes an integrated spirit level and drilling template. 
This will allow your local electrician to install this charger without any serious issues as there are no major hardware modifications. It's a great entry to the EV charger market and is one of the easiest to install. 
The charger itself is robust and well-packaged. If you do encounter any issues with the delivery of the charger, you can contact the Hypervolt customer service and support team, they usually respond quickly to any problems.
Charging Speed & Experience
The way in which the charger works is by connecting to your home's WiFi and you require a stable WiFi connection in order for the app to work. When you see that the LED light on the front is blue, that means it's ready to charge. You can simply plug the Hypervolt into your EV and wait for it to green, once it does, this means it's charging. 
If you want to schedule a charge, the light will stay purple and then it will go green once the scheduled charge starts. It is a tethered version so you can run the cable straight to your EV and when finished just wrap it around the unit using the cable tidy.
Overall, it's a very straightforward charging system to use and clearly indicates what mode it is so you can keep track easily.
After putting it to the test we found planning a scheduled charge to be easy and through the app you can set it to certain times of the day, maybe it suits your routine more or perhaps you want to charge your EV later in the evening to save money.
Whichever it is, just plug your Hyervolt into the EV, set up the scheduled charges you want, that could be daily, weekly or perhaps every month and the LED ring will go purple to indicate a scheduled charge. Once the date and time of your scheduled charger comes around, it will automatically start charging your EV.
The Chargers Cable Length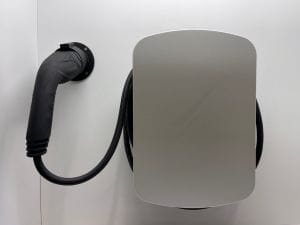 Most vehicle charging systems only have one standard length when it comes to the cable. With the Hypervolt charger, there are actually three options. The 5m cable which is the standard size, the 7.5m cable which will cost you an extra £42 or you can opt for the 10m cable which is an additional £90. 
This is one of the few points that offer a 10m cable.
Voice Control With The Vehicle Charging Systems
A really good feature which we recommend using is voice control. You can control the Hypervolt 2.0 using an Alexa or Amazon Ech Dot. This includes reducing the brightness of the lights to initiating a charge for your EV.
All you have to do is pair the Alexa app by searching for it with your charger. Once it's connected you can ask questions and initiate commands. It's certainly something different that some of the other brands and models do not have. We think it's excellent!
Dimensions & Specifications 
Brand – Hypervolt
Sockets – 1
Colour – Black/White
Wifi – Yes
Wattage – 7.4kW
Voltage – 230v
Dimensions (without cable) – 328mm x 243mm x 101mm
Weight – 5.2kg (shipping weight)
If you have read a few charger reviews, you'll know that the app can often let them down or bring the overall score of the product down slightly. This, however, is not like that, the Hypervolt app is one of the easiest and most simplistic we have come across. 
As you load the app up, you can first create your account and it will then scan for your charger which you would have already connected to your WiFi. Once it finds it, simply select your charger and it will then sync to your phone.
The colour scheme on the app is nice and light with white and green and you can dictate what brightness you want. Its interface is clean and easy to read meaning you'll never get confused when looking at the data. You can also lock and unlock the charger using the app which is helpful.
As you load into the app, you will see three different screens. These are:
Charger – Shows how much money your spending, sessions and charging rate
Energy Usage – Gives you a bar chart of the energy used with kW and £
Analytics – Real time metrics on energy
You also have two charging modes. You can either plug your Hypervolt in and start charging straight away or you can set a scheduled charge if you want to charge at quieter times which may save you money.
The firmware is always updated for you, this is due to over-the-air updates. You can find the current firmware version in the app under the section of the settings panel. The firmware on average is updated every few weeks.
Status Lights On The Charge Point
Thanks to its LED status lights, you can always know what mode your electric vehicle charging point is on. Below is a breakdown of the different modes along with their colours:
Blue bolt with white – Setup

No Light – Off

Red – Fault

Orange – Locked

Green – Charging

White – Hotspot mode

Blue – Ready to charge

Purple – Scheduled charging 
As you can see the lights clearly indicate what your charger is doing so you'll never be unsure. You can also decide to have no lights on at all if it's too flashy for your neighbours. However, if you decide to do this, you will have to look at the app constantly to see the charger's status.
Yes, this charging station is solar compatible. If you already have solar panels installed on your roof, they can directly connect to the Hypervolt Home 2.0 so you can charge for free and control solar charging. However, you will have to ensure that you have enough power being produced otherwise the charging speed will decrease. 
Usually, a standard solar panel on a home will generate about 4kW. The maximum for a charger at home is usually 7kW so it means you won't be hitting full capacity and it will take longer for your EV to charge, but you are completely green. You have to weigh up the pros and cons, but by being completely green you save money and help the environment. 
You may just have to put your EV onto charge earlier in the evening so it reaches 80% by the time you get up the next day.
Advantages & Disadvantages
As with every type of electric car charger, there are pros and cons. The Hypervolt 2.0 is no different, although the pros far outweigh the cons. 
Advantages
Aesthetically Pleasing – Based on our firsthand experience, we found the charging point to be one of the most appealing on the market with its flawless smart shape, colours and style.
Voice Control – Being able to use an Alexa to charge your EV or initiate other commands is one of the best features of this model.
Solar Integration – Many chargers don't have this, so this is definitely a unique feature.
Affordable – Certainly not the cheapest of chargers, but also not top-end, it's somewhere in between.
Disadvantages
White Colour – If you choose this colour, the charger can certainly get dirty quickly.
Can you Lock the Hypervolt EV Charger?
Yes, you can lock it, just log into your app and it has a feature that locks and unlocks the charging system meaning you can decide who can access it.
Where are Hypervolt chargers made?
Hypervolt chargers are made in Britain and come with a three-year warranty and the brand is known for its amazing customer service.
Is the Hypervolt Charger worth it?
If you want an affordable, stylish and well-built charging system then yes it's definitely worth it. It's one of the most sought-after charging ports in the UK and we never really see many complaints from customers.
As you can tell from this Hypervolt review, we only really have glowing things to say about this charger. When we trialled this product, we found it to have superb features such as solar panel integration, voice control and a cable tidy, but it's also very reliable and built extremely well.
We would have to give this charger a 9.5/10, it's one of the most complete on the market and there is very little you can criticise. Even its app we found to be easy to use and quite enjoyable, which hasn't always been the case with other brands.
We hope you enjoyed this review and we have plenty more where that came from, you can head to our main page to see a list of the different chargers we take a look at or browse all the home electric car charging stations that are currently available.