Is it Free To Charge Electric Cars At Supermarkets?
With the growing number of electric cars hitting UK roads, it's no surprise that the charging infrastructure must be improved rapidly.
As a result, you will now start to see more and more charging points at shopping centres, supermarkets, restaurants and motorway services. 
But is it free to charge electric cars at supermarkets, and if so, what chains are offering this?
In this guide, we look at all of this.
Let's get started…
Is Electric Car Charging Free At Supermarkets
Yes, electric car charging is free at certain supermarkets depending on where you shop. Pod Point is often the network provider to many major supermarket brands, offering fast charging between 7kW-22kWs. 
Supermarket Chains Offering EV Charging
Tesco has partnered with Volkswagen and Pod Point to install electric vehicle (EV) charging stations at many of its supermarkets across the United Kingdom.
Lidl has been investing in charging infrastructure, installing EV charging stations at several of its locations in the UK.
Asda has also been implementing charging stations at select stores across the UK.
Sainsbury' has been installing charging stations in partnership with companies like Pod Point and ChargePoint at various locations across the UK.
The Morrisons supermarket chain has partnered with GeniePoint to install rapid EV charging stations at select stores.
Charging Network Partnerships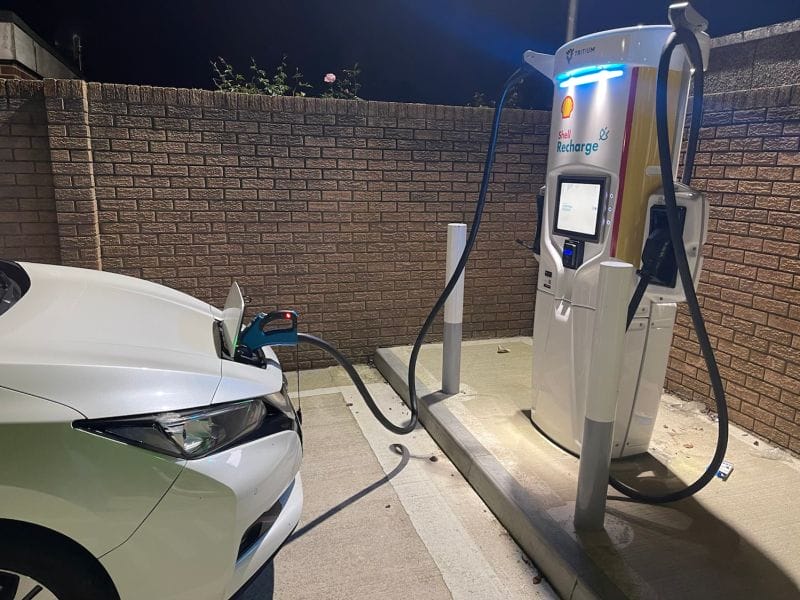 ChargePoint, a leading EV charging network, has partnered with InstaVolt to expand the availability of charging stations.
Pod Point has partnered with Sainsbury's to install more public charging units nationwide.
BP Chargemaster operates the Polar charging network, offering thousands of charging points across the UK, including at various retail locations and supermarkets.
Gridserve has partnered with Ecotricity to upgrade and expand the Electric Highway, a major EV charging network in the UK.
Charging Costs at Supermarkets
Below we look at the factors that will affect your charging cost at a supermarket and examples of where free charging applies.
Factors affecting charging costs
Type of charging station – Depending on the charging station available will determine some of the prices you pay. Using a level 2 charger will be considerably cheaper than an ultra-rapid charger that would have you back on the road within 30 minutes. 
Charging network fees – If you are charging at peak time, perhaps in the middle of the day, you may be expected to pay more than someone charging in the middle of the night and there is less activity on the Grid. Also, some networks charge a flat subscription fee monthly, whilst others charge per kWh or per minute of charging.
Supermarket policies – Some will provide free charging as an incentive to shop there, while others will charge a fee to use their charging units. It's also worth mentioning that there might be loyalty programmes or if you shop in-store you will get a discount on your charging cost. 
Advantages of Charging at Supermarkets
Convenience
You can charge your electric car whilst doing your shop, that way, you can complete two jobs at once. This is especially handy if you do a big shop and spend considerable time in the supermarket, it will allow your EV to charge to a decent percentage. 
Potential Cost Savings
Compared to charging at other public spots, this may work out cheaper and offer you better value for money than if you were to charge at a motorway service station or town centre car park.
Understanding Charging Speeds at Supermarkets
Types Of Chargers Typically Found 
You will usually have three levels of chargers at supermarkets, these are:
Level 1 – These are slow chargers that most people don't use, as you will be waiting a long time for any considerable increase in your charge. It typically provides 2-3 miles of range per hour.

Level 2 – These are the most commonly found at home and in public. They provide roughly 10-60 miles of range per hour and are suitable for topping up your vehicle. 

Level 3 (DC Fast Chargers) – As the most expensive, you would expect them to be the fastest, and that's precisely what they are. They provide 60-250 miles of range in under one hour.
Factors Affecting Charging Speed
Type of electric vehicle – One of the main factors about how fast your car will charge is the type of electric vehicle you have. It may not have the necessary charging compatibility and an on-board charger determines the maximum charging rate the vehicle can handle.
Battery Capacity – Every EV has a certain battery capacity, and the higher this is, the longer it will take to charge. 
Locating charging stations at supermarkets – You can use smartphone apps and websites to search what supermarkets provide charging, along with the type of connectors, real time availability and power output.
Using charging station apps for payment – By having an app downloaded, you can store everything on your phone, making it easier to complete payments when charging. 
Limiting charging time during peak hours – If you are in the middle of the day and can see a considerable queue forming behind you, don't take hours if you really don't need the extra charge. Be considerate and aware that other people also need to charge their EV.
Hopefully, this guide helped explain that supermarkets do offer free charging at certain stores, what chains and networks you can expect to find and the overall benefits of charging at a supermarket. 
We would certainly encourage you to take advantage of free charging if it was available at a store near you, you can save money and do your shop and charge your car simultaneously, what more could you want! 
Have a look at our guide page for more information regarding electric vehicles and charging.