Once a leading contender in the EV charging market, how does this model fare now against other top brands such as GoZeros Optimus?
Is it stylish enough, how durable is it and what charging speeds does it offer?
In this Ohme Pro charger review, we take a deep dive into this charging station and see how it fares against other models.
Let's get going…
Pros
Small & compact
No Earth rod
Brilliant app
Easy to use
What Is The Ohme Charger Pro?
A small, lightweight and stylish charger with an LCD screen, the Ohme home pro could easily be the top rated currently available in the UK. You don't require an earthing solution or earth rod as it has built-in earthing and is tethered with a power of 7.4kW. 
The Ohme home boasts an LCD screen that is easy to read and navigate and the smart charger is small enough to not take up too much of a presence on the side of your house. It doesn't have solar integration though unlike other chargers, so you won't be able to charge it even if you do have solar panels installed already.
Another factor to consider is that you need a good mobile signal for the smart features to work on this charge point, you will get a three sim included in the original purchase as it runs with 3G and 4G. The Ohme home can connect to a variety of mobile networks including EE, Vodaphone, O2 and Three, just decide which has the strongest connection and go with them would be our advice.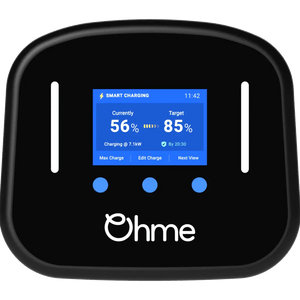 An elegant curved black box, the charging point is subtle whilst still looking professional. The Ohme home is one of the slimmest home vehicle chargers on the market and the cover is made from polycarbonate, whilst the case is constructed from ABS. 
Due to the materials, it's made from, the Ohme home is extremely durable and you'll have no concerns about it being lightweight or coming off the wall. The home pro charger itself blends nicely with most surroundings due to the black exterior and the three blue buttons are the only noticeable feature.
You won't need a cable hook either as there is a wall mount for the charger head and with it, an integrated cable hold. You simply wrap the cable around the charge point and the charger head and place it into the wall mount, it's simple yet effective.  
A really easy charger to use and install, an electrician will have this installed within a few hours. Integrated within the charger is an O-PEN fault device which means no earthing rod is needed. No upstream RCD is required either as it has an internal RCD Type A with 6 mA DC. 
You are also allowed to install it both inside and outside your home due to it having IP55 ingress protection. Unlike other EV chargers which connect to your home's WiFi, the Ohme home actually has its own sim card with the costs covered for the first three years after purchase. You just have to connect your smartphone to your charger.
Your installer won't need much additional hardware as the CT clamp, lightning junction box and wago connectors are all inside the box. There is very little configuration needed either as the power module and circuit board are built into the charging point.
Therefore, it's a dream installation really, all you have to do Is wire up the RCD, feed it through to the installation location and connect the home charger. The reviews that we read say how strong and durable it is so you should have any issues with cracks or coming loose.
Charging Speed & Experience
This EV charger is excellent in terms of charging, it has a maximum power output of 7.4kW which is the maximum allowed on a single phase. If you were to have a three phase then you could charge higher at 22kW for example. At 7.4kW, you can expect about an additional 30 miles of range per hour depending on your battery size.
For any mode 3-equipped electric cars that use Type 1 or Type 2 connectors, the Ohme Pro charge point is compatible with all these. The charging point features a Max Charge mode which is pretty self-explanatory. It allows you to override any saved schedules you may have, and charge your electric car to full capacity which may be useful if you are in a rush.
The EV charger is just brilliant and easy to use through the Ohme app and the screen is fantastic for scheduling chargers. You can set your vehicle to charge early during the week or late in the evenings on the weekend as an example, just programme the scheduling to suit your routine. 
It's always worth searching for an off peak tariff and a massive bonus to this charging station is its ability to make sure you never pay more per kWh than your willing to. This is due to the price cap feature which makes sure that you are always on the cheapest available rate on your current electricity tariff. 
The only thing we would have liked to see was a dedicated lock mode implemented for the app, apart from that, there wasn't a lot to fault about the experience itself.
Great For Innovative Tariffs
The Ohme Home Pro allows you to take advantage of excellent energy tariffs such as Octopus Agile where the prices fluctuate every 30 minutes. This is achieved by the automatic syncing of the car, charging unit and energy tariff. 
It works by you setting yourself a battery level target, your Ohme Home will then work towards achieving that target whilst always trying to use the lowest electricity prices. 
This is why the app is so useful it does all the work for you. It's worth noting that you need an API connection in order to enjoy all the features and technology on offer. You can still charge your car with no problem, it's just not as smooth as it could be. 
There are the current vehicles that have API integration and can benefit the most from the Ohme Home features:
Tesla
Nissan
Mini
BMW
Kia
Land Rover
Jaguar
Renault
Hyundai
The LCD screen in our opinion is one of if not the best screens out of all the charging points we review. It's very straightforward to use and it's very pleasant to look at as it's small and compact, therefore doesn't intrude on the charger itself. 
The screen remains on 24 hours a day and can't be turned off, although the screen does dim when not in use and goes back to its normal setting just by simply touching the screen or pressing the buttons. 
There are three blue buttons on the front that allow you to go through the various settings and set anything you want to be done with the charger. The buttons themselves are solid and comfortable to touch. 
You get different information on the default display screen, this includes:
Car charge level

Battery target

Time to target

Time

Charging mode (.e.g. Smart Charging)
It has two other options you can pick besides the default screen, these are Eco Charge and Max Charge. Each one provides a different kW rate so you can charge faster or slower.
There are also two LED status bars that are helpful as they show you the status of the charging point as well as errors and other key information. You can also find the charger serial number if ever needed by double tapping the touch-sensitive button that's available.
As with most EV charging points, you are able to set the smart charging schedule around your routine. With the Ohme, you can use the app or the screen on the charger itself to plan charging sessions and when you want the electric vehicle home charger to begin.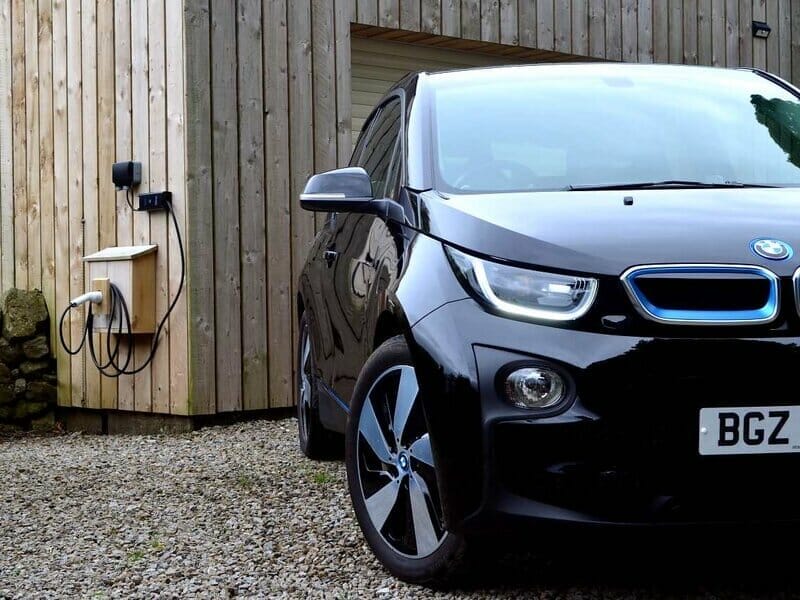 The Ohme's cable length is a standard 5 meters which is usually plenty for people as they park on their drives and whichever way you park, the cable still has plenty of slack to reach the car.
The app doesn't actually connect to the car itself, it connects to the vehicle manufacturer's API/telematics services which in return gets the vehicle information you need and feeds it back to you through the app. 
This is fine as long as your electric vehicle can connect to the API, if it doesn't, then you will only have limited data about your vehicle.
Dimensions & Specifications 
Brand – Ohme

Sockets – 1

Colour – Black 

Wifi – Yes

Wattage – 7.4kW

Voltage – 230v 

Dimensions – 170 x 200 x 100mm

Weight – 4kg
With a sleek modern interface, the Ohme app doesn't a brilliant job at providing an in-depth analysis of your car's data. You can plan scheduled charges as well as have full control over price caps and smart charging. It's by far one of the best apps for providing such a broad scope of options.
Ohme is constantly updating and improving the Ohme app with software updates and it has very good reviews across the App store and Google Play. We've already mentioned how the app connects to the vehicle manufacturers API and below are the listed vehicles supported for API:
Jaguar

Kia

BMW

Renault

Tesla

Hyundai

Volkswagen (excluding ID.3 and ID.4)
The API is a very important feature as it allows the Ohme Pro to connect to the vehicle's API which then collects the relevant information you want about charging. Smart features are then unlocked which means you can do things like setting a limited charge as an example.
Without the API working, your data is very limited and you can't do half the things you would probably like to do. It won't collect data from your car and will rely on its own data source. You will, however, still be able to set scheduled charges and control the charging from your Ohme app or unit. 
No light: Finished 

Blue: Delayed 

Green: Active charging, according to schedule

Flashing green: Active, but car not drawing power.

Red: Problem
Unfortunately, the Ohme home is not solar compatible so if you do have panels, you may want to look at some of the other vehicle charging companies that are compatible. This model is still a brilliant choice, but if solar compatibility is a deal breaker, this one isn't for you.
Ohme Home Pro Charger Advantages & Disadvantages
Pros
Stylish – Due to its black exterior, it doesn't stand out and blends nicely with your home.

Screen – Easy to use and set up all your scheduling needs.

Small & Compact – One of the smallest EV chargers available, it doesn't take up too much room on your home.
Cons
API – If the API does not work, you only have basic features and data available.
Is Ohme home Charger Tethered?
Yes, the Ohme Pro is tethered which means the cable is permanently attached.
How big is a Ohme home Unit?
The home charger is 170 x 200 x 100mm making it one of the smaller points.
That's all that's left to say about the Ohme, a wonderfully sleek, stylish charger that is a customer favourite. It's easy to use, charges superbly and allows you to track all the relevant information you need to ensure everything is working in order.
We would give the Ohme home changing point a 9/10 as it's one that we like a lot, we struggled to find a lot wrong with it and think it's one of the most well-rounded EV chargers currently available.
We hope you enjoyed our Ohme Home Pro review and if you want to browse a full list of all the chargers we have currently reviewed or are in the middle of reviewing, head to our main page. You can also pick for yourself which is the best home car charger by comparing the different options available on this page.