Disclaimer – This model of charger is no longer compliant with UK regulations. 
Boasting a variety of great features, the Sync EV is a popular choice for EV owners.
Is it because it's well priced, is the charging experience good or does it have a USP?
Let's find out in this Sync EV charger review as we breakdown the different areas of this charger.
Let's get started…
Pros
No earth rod

Small & compact

Comes with an RFID card

LED light ring
What Is The Sync EV Charger?
Drawing from our experience, this unit is ideal for small outdoor spaces, the Sync EV is simple and easy to use and sits flush against the wall not making it stand out too much. It has a maximum charging output of 7.4kW which is similar to other charging brands and will add around 30 miles of range per hour.
Due to its size, it's easy to install and is well made, it never feels as if it's going to come off or the elements will affect the charger in anyway. It also has a really nice light ring and comes with an RFID card, despite its very reasonable price. 
The only thing that isn't great about the charger, is that the app is basic and doesn't provide you with some of the in-depth data and points that other apps do. It's still easy to use and understand, the data just isn't the most detailed.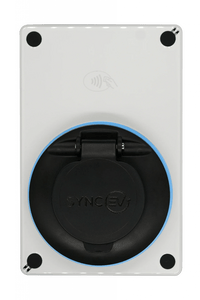 The people at Sync have done wonders to turn a small black box into something so visually appealing. With its slim design and ABS casing which is finished in black, the point looks clean and smart without drawing too much attention to it as you walk past.
It's more than suitable for indoor or outdoor installation due to being rated for IP54 ingress protection.
The charger also has an LED status light ring allowing you to see what status your EV is at without having to look at your phone. You can glance over and depending on the colour, this will tell you what stage it's on. There are four different states, these are ready, preparing, charging and fault. Due to the colours on the ring, it also makes the charger stand out more, rather than being a dull black case.
The untethered connection of the Sync is compatible with Type 2 cables and similar to other chargers, when your EV is charging, the cable will lock into the charger and release itself when charging stops. 
As design goes, we can't really fault it, it's a great unit for something so small and it looks brilliant attached to your home. The only minor suggestion we could offer was a wider colour variety, some people prefer vibrant colours and this may be the only thing, although the light on the unit does offer some visibility, especially in the dark.
With built-in earthing and a built-in Type A RCD, it makes an electrician's life a lot easier when it comes to installation, although it does need a CT clamp for dynamic loading. Due to its built-in earthing, no earth rod is required which also means there is no need for an earth electrode. Furthermore, the SYNC can now be directly connected to a TN-C-S earthing system.
A Type A RCD with 6mA DC protection is also included with this charging model so the circuit should be installed at the source with a 40A B Type MCB. In laymen's terms, its a straightforward installation and no special arrangements are needed for the majority. 
At the meter, the CT clamp is clipped onto supply cables and wired back to the charger, this allows for dynamic load management. It can be set at 60A, 80A or 100A with the CT clamp and the CT clamp also monitors the main fuse which is at the electric meter, clipped to the supply cables.
After you have wired the unit safely in, it's time to connect the front of the charger and test everything is working accordingly. It shouldn't take any longer than a few hours to complete and usually there are no major issues with chargers such as these for your home.
The addition of an RFID card to this already fantastic unit for an EV is precisely one of the leading contenders. The RFID card allows you to do a variety of tasks with your charger including lock & unlock, start and pause charging sessions and top up when you need to. 
It provides a great alternative to using your smartphone and more and more people are starting to prefer an RFID. The Sync comes with one pre-programmed RFID card but if you want more for other family members, you can purchase them online.
Charging Speed & Experience
Most single-phase AC home chargers have an output of 7kW, but the syncev actually has an output of 7.4kW which means you get slightly more miles per hour on your range. 7kW usually gives you about 25 miles of range per hour, whilst 7.4kW is around 30 miles of range per hour.
After putting it to the test, this might not only perhaps be the smallest untethered charger but possibly the fastest on a single phase.
Charging Schedules At Home
You can easy set your schedules up through your app, whether you need weekdays or weekend scheduling or both. It's very straightforward to use and if you don't like the app, you can do it on the unit itself which is useful.
If you run into any issues trying to set up a schedule, contact the support team either by email or phone and they'll be happy to help you get your unit set up properly for your home.
The cable length is 5m which is plenty for anyone with a drive. Whether you park it with the socket right next to the unit or the opposite way around, there's still plenty of cable to wrap around your car and charge with the Sync EV.
Dimensions & Specifications 
Brand – Sync EV

Sockets – 1

Colour – Black

Wifi – Yes

Wattage – 7.4kW

Voltage – 230v 

Dimensions (without cable) – 187 x 122 x 90mm

Weight – 1.5kg (without cable)
Similar to many of the other brands and as indicated by our tests, this is probably the weakest feature of the whole product. A lot of the time, it seems the software is the least important as the products are always well built and the Sync is no different. 
It has average reviews across the App Store and Google Play, which shows there is massive room for growth and improvement. In terms of connection, it's fine as long as you have a good internet connection you shouldn't encounter any issues or errors. 
The problems come when you look at the figures themselves or should I say lack of figures. There isn't a whole lot of information to look at regarding your unit and EV, your actually better off looking at your EV for more detailed information.
The app does the basics well such as controlling the unit but if you want plenty of helpful information, it's very limited. Some of the features such as the graph is slow to update and only provides daily information. You can't compare charging sessions and you also cant filter sessions by calendar month. As you can see, plenty of scope for improvement. 
Overall, the app is fine if your not that fussed about using it, but if you like to look at a lot of information, figures and comparisons, then it isn't for you.
You can use a stable WiFi connection or an ethernet to connect your app. If your internet does drop out this may cause errors within the app, so just ensure that your close enough to your router in your home when using the app to get the stats you want and so you can incorporate smart scheduled charging into your routine. 
The light ring comes with 4 different colour stages which let you know what part of the process the unit is in.
Solid Blue – Ready to charge

Solid Green – Charging

Blue/Green – In a scheduled mode

Red – Fault with the unit
The sync EV is compatible with solar and smart tariff integration making it a very appealing option for home owners wanting to save even more money. From all the customer reviews we have read, many are extremely fond of its ability to charge with solar.
Sync EV Advantages & Disadvantages 
Benefits 
Solar Compatibility – When we trialled this product, we found the fact that it can use solar to charge your EV makes it very appealing to owners as not many brands can offer this.

Output Power – At 7.4kW this is one of the higher kW that are currently available. 

RFID Card – A superb addition making it easier for people to manger their EV whether that's at home or out on the road.

Small – It's ideal for a space on a home with not much room, it fits nicely into the smallest of areas.
Drawbacks 
Lack of Colours – It only comes in the black when some people may prefer something more colourful. 

App – Could provide more information about your EV.
Can you lock the Sync EV charger?
Yes you can lock it whether that's through the RFID card or the unit itself. 
Does Sync EV need earth rod?
No earth rod is required as it has built-in earthing. 
How does Sync EV work?
It works by setting up the unit, and then plugging in the cable from the unit into your EV. Once the green light appears it means your car is charging.
We hope this Sync EV charger review has helped answer any questions regarding the charger and help you consider whether or not to buy this great option. We would give it an 8.8/10 due to its brilliant ability for scheduled charging times, working efficiently and it's a small compact option which means it looks great on your home.
Unlike others which are a bit of an eye sore, chargers such as this one go unnoticed but still continue to charge your EV consistently. It's durable and its fuse protection and LED light give it unique features, unlike some others.
We share a load more articles on our main page if you need more support choosing a brand or if you want to see our EV charger reviews in one place, head over to this page.