Wallbox Pulsar Plus Review
Disclaimer – This model of charger is no longer compliant with UK regulations. 
The Wallbox Pulsar Plus is, without a doubt, one of the smartest and most compact EV chargers available. 
In this Wallbox Pulsar Plus review, we take a look at all its features and its pros and cons.
We also share our honest opinion on whether you should purchase this charger.
Let's not waste any more time…
Pros
Small & compact
No earth rod
Aesthetically pleasing
Durable 
LED light ring
What Are Wallbox Chargers?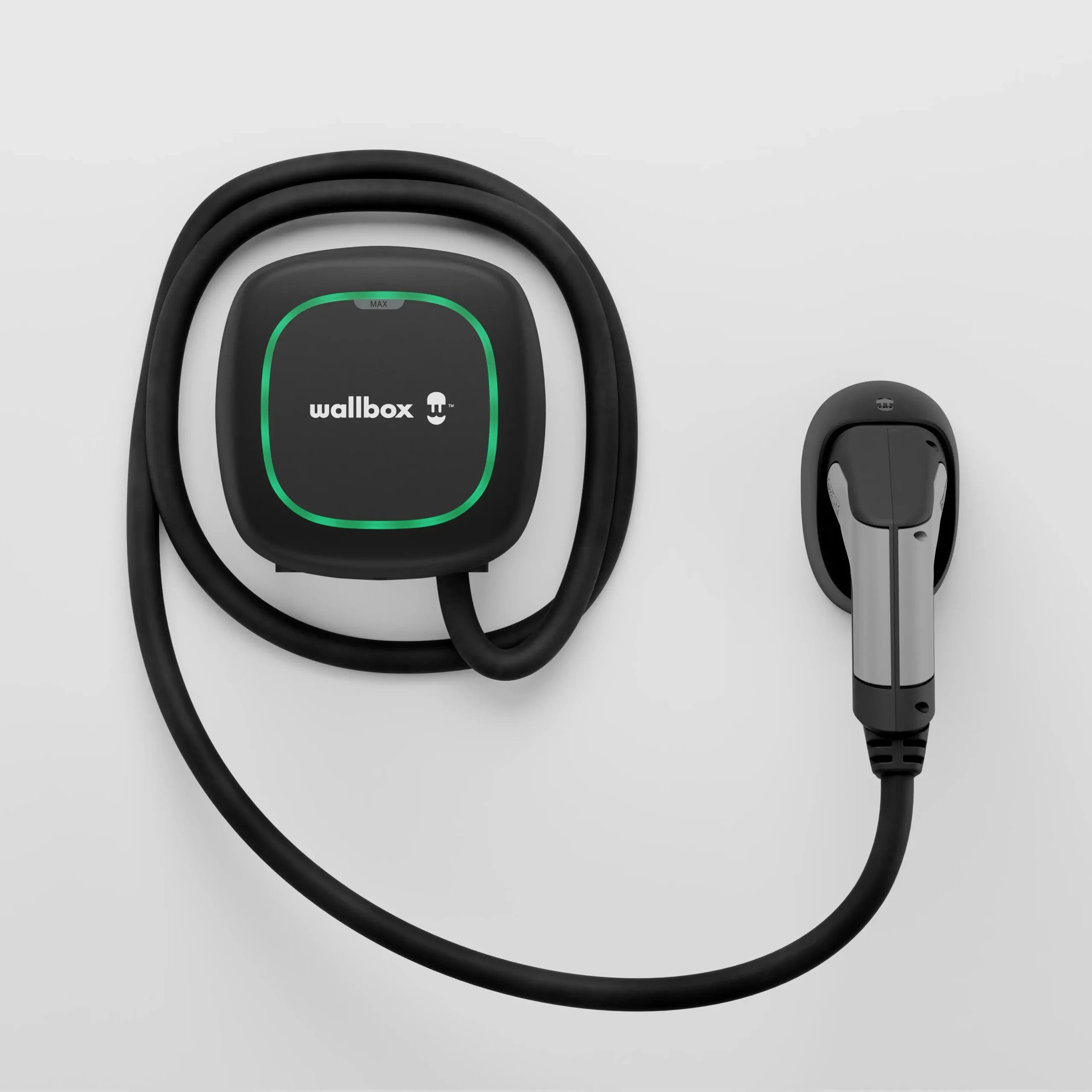 The Wallbox Pulsar Plus is an innovative charger that is small and compact allowing it to not take up too much space on the side of your home. It can charge at speeds from 7.4kW right up to 22kW making it very popular among electric car owners.
It's very stylish and with its WiFi and solar compatibility, it's by far one of the most well-rounded charging points currently available. If you want to know whether you should buy the Pulsar Plus, we would say yes definitely. It is a great price and comes with a wide range of features that are excellent for a neat compact charger. 
The Pulsar Plus has a small compact design with a small black square shape which you may think would look bland and boring but not this EV charger. Its plastic exterior and LED ring make it visually appealing when attached to the side of your home.
Through the myWalbox app, you can tell the status of your charging station through the LED ring. It indicates clearly what the status is when charging, all you have to do is plug the cable into your electric vehicle.
Unfortunately, the LED light is quite bright and there is no current feature to turn it off or dimmed once your car is charging, so hopefully, Wallbox do something about this.
The sides of the smart charger are matte which allows it to have that clean and polished finish. It blends in well with the rest of your surroundings, whilst the LED ring always ensures it's visible enough to see without drawing too much attention. 
One of the downsides of this home charging point is that the cable looks untidy when wrapped around the charger. There is a holster that attaches to the wall you can buy to place the charger head in so that it doesn't hang loose. This makes it slightly neater but the cable is still unsightly when wrapped around the charger.
The Pulsar Plus also comes in the colour white as well as black, but we think the black option is far nicer and blends in with your home more rather than the white.
As long as you hire a qualified electrician, the Wallbox Pulsar Plus should take no longer than 2-3 hours to install. It's very straightforward and should be able to be installed at your home with minimal issues. 
One of the big benefits is that you don't need an earth rod as there built-in earthing protection. An external Minature Circuit Breaker (MCB) needs to be installed alongside it with no more than 32A and a Type A Residual Current Circuit Breaker (RCCB).
If you are charging at 7.4kW then you will need a single phase, whilst 11kW and 22kW both require three-phase power which is what you usually see at supermarkets and shopping centres. 
Charging Speed & Experience
Unlike some other brands which can only charge at 7kW, the Pulsar Plus gets glowing reviews for being able to charge up to 22kW whilst at home. 
Type 1 and Type 2 vehicles can both be charged at 7.4kW on a single-phase power. Whilst on a 3-phase power, a Type 2 vehicle can be charged up to 11kW and 22kW which is why it's considered one of the fastest home EV chargers available. 
The circuitry and quality of the charger are excellent and the way Wallbox have ensured everything stays neat and compact is also a great bonus. The Wallbox logo is also featured on the circuit board, ensuring it's not generic. 
The Wallbox Pulsar can also be purchased alongside a power boost which is sold separately. The purpose of the power boost is that it manages the energy you use in your home and the amount you use charging. It then maximises the power ouput your electric car can get whilst charging.
Through the app, you can easily set up charging schedules to suit your needs whether that's during the day or during off peak hours. The app is simple and useful to use, meaning you can follow the instructions and have scheduled charging set up within minutes. You can also see the different tariffs from companies such as octopus energy to see whether or not you could save money by switching to another energy provider.
If you do encounter a problem with the charge point, the Wallbox customer service team are always available for support regarding any of there EV chargers.
The wallbox charger itself is a tethered charger and does not have the option to be an untethered charger. The standard cable length size is 5m, although you can upgrade this to 7m if you wish. Depending on how big your drive is and the way you park when you get home, it may be worth investing in the slightly longer cable just for practicality. 
Like any of the other charging apps, you need WiFi in order for the smart features to work on the Wallbox Pulsar Plus.
Usually, you will need a fairly strong WiFi connection and although dropouts do occasionally happen with your WiFi router, you can also connect with Bluetooth. If your WiFi is temperamental, Bluetooth will always allow you the ability to continue charging.
WiFi is needed if you want voice control, however, if you just want to use and control the Wallbox Pulsar Plus, then Bluetooth is more than sufficient.
A nifty little feature with it's advanced technology that you as an EV owner may enjoy. The Wallbox Voice Assistant allows you to do a number of things like you would through the app such as:
Set an EV charging schedule 
Lock or unlock the charger
Start and stop an EV charging session
To do all of these things, voice control is used with Google Assistant. Whether you set it up through your android smartphone or Google Home, it's a great addition to what already is a fantastic charging station.
Dimensions & Specifications 
Brand – Wallbox 
Sockets – 1
Colour – Black/White
Wifi – Yes
Wattage – 7.4kW – 22kW
Voltage – 220v – 400v
Dimensions (without cable) – 166 x 163 x 82mm
Weight – 1kg (without cable)
The app is one of the better ones on the market as it's easy to use and you actually use it through apple watch or android wear which is unique. You need a good WiFi connection for it to work, although you can still control it through your car.
To set it up, you first have to download the app from the app store. Then register a Wallbox account before confirming your email. Lastly, open the app up and sign in with your details. 
Once logged in, you need to add the serial number and UiD of the EV home charger to the app and then connect to the wall charger through Bluetooth. There are a number of features and things you can control via the app, these include:
How quickly your car is charging
Energy costs and previous history
Lock and unlock 
Live information on the car charging
See your energy use
Charging history
The mywallbox app has good features and is a decent addition to the Pulsar Plus. It can sometimes be a bit temperamental with its connection and only has a 32.8 feet range so if you are further than that, it will have issues. One of the key aspects we do love is how the app and charger's LED ring is synchronised, allowing a status update through colour. The app also has a good interface and large buttons so its easy to navigate around.
As with all chargers, you have different colours to single the different stages the charge is in. Below we list what each colour means:
Green – EV charging is available
Turquoise – Standby/charging finished
Turquoise blinking – Scheduled charge mode is ready
Dark blue blinking – EV Charging
Yellow – Locked
Red – Error
White – Software update
Wallbox Pulsar Plus Benefits & Drawbacks
Below, we will list a variety of advantages and disadvantages of the Wallbox so you can decide whether this review will be the one you pick to charge your car.
Advantages  
Small & Compact – Due to its great size, it's able to fit in with all homes and be discreet. The colour and shape just add to what already is a stylish charger and it's definitely not one that sticks out like a sore thumb. 
LED Light Ring – The LED light ring lights up around the EV home charger indicating what status the charger is in. This nifty little feature is very nice on the eye and allows you to easily see it in the dark.
No Earth Rod – Due to its integrated PEN fault protection system, no rod is required, which is again great for an electric car owner.
Solar Integration – You can now charger your EV using the solar panels on your roof.
Disadvantages 
Wallbox App – Sometimes the mywallbox app can be temperamental but that isn't always the software that is the issue, that can be your WiFi connection if you're not close enough to the charger. 
Is a Wallbox a good EV charger?
We think the Wallbox Pulsar is a very good charger for its price and features. It does everything you want it to do in terms of charging your car slowly or quickly and looks great doing so with its matte finish and LED light ring. 
Is the Wallbox Pulsar Plus waterproof?
Yes, the Wallbox Pulsar Plus is waterproof, as well as dustproof so will always be safe to be installed outside on the wall of your home.
Does Wallbox Pulsar Plus need earth rod?
No, the Wallbox Plus does not need a rod as it has a built-in PEN fault protection system to detect any issues.
We hope this Wallbox Pulsar Plus review helped give you an insight into whether or not it's the right charger for your home. We certainly think it's a good choice for most homes due to the excellent build quality, easy app and how you can set charging for certain times.
We would give this model an 8/10 for its charging power & speed, how good on the eye it is and its great LED colour ring. The wallbox app is also good but there are better apps on some other chargers. 
The Wallbox is a fair price for the quality you receive and is definitely worth considering when picking a certain EV charger for your cars. If you want to read other charging station reviews or see all of the chargers we have reviewed then visit our main pages.