Optimus EV Charger Review
By far our favourite charger currently available, the Optimus has it all!
It may be new to the market but don't let that fool you, it's reliable, reasonably priced and makes charging much more enjoyable.
In this Optimus charger review, we take a deep dive into why this is the number one charger on the market.
Let's begin..
Pros
Setup multiple charging schedules 

Brilliant app 

Solar compatible 

Rent your charger and earn money

Sleek and stylish desig
Cons
Customer service could be quicker
What Is The Optimus Charger?
Made by GoZero, the Optimus charger is their flagship car charger. The smart EV charger is incredibly stylish and we found its actual build extremely durable.
You have control over various advanced charging functions due to the incredible app they have created. Sometimes the app is not always as good as the charger itself, but this couldn't be further from the truth with the Optimus.
You can also earn money by renting out your charger to the general public, but we'll go into that in more detail further down the page.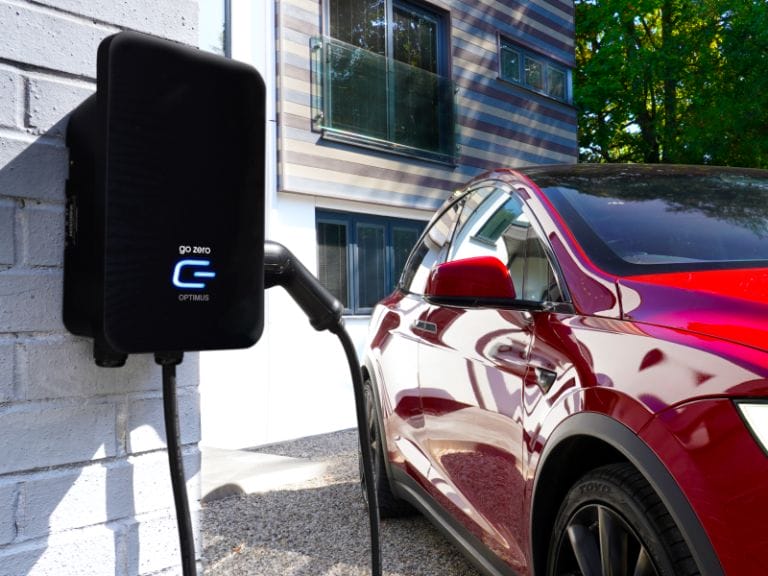 The elegant matte black finish allows this home charger to blend in perfectly with your home and surroundings, it doesn't become an eyesore whilst still looking professional and clean.
We also found it to be a reasonable size when testing it, it's certainly not the smallest, but it isn't too big either, it's a good size without taking up too much space on your wall.
The construction of the unit itself has been designed to withstand extreme weather and be very durable, so it doesn't come away from the wall easily.
You have two choices when it comes to installation, you can either opt for a local electrician and organise it yourself, or you can pick GoZero's national installation team and allow them to handle the process from start to finish. 
Once you have ordered the product and chosen for GoZero to install, they will provide a free home survey to cover all pre-installation checks. 
A standard installation covers a variety of things, these  include:
Fitting the charger on a suitable permanent structure such as a brick or plaster wall

Cable fixed flush to the wall from the consumer unit to the charger

A double pole RBCO device and surge protection device are included

Installation of the cable at a maxim height of two metres.

Cable to be fitted a 20-inch thick drilled hole through the wall when required
Charging Speed & Experience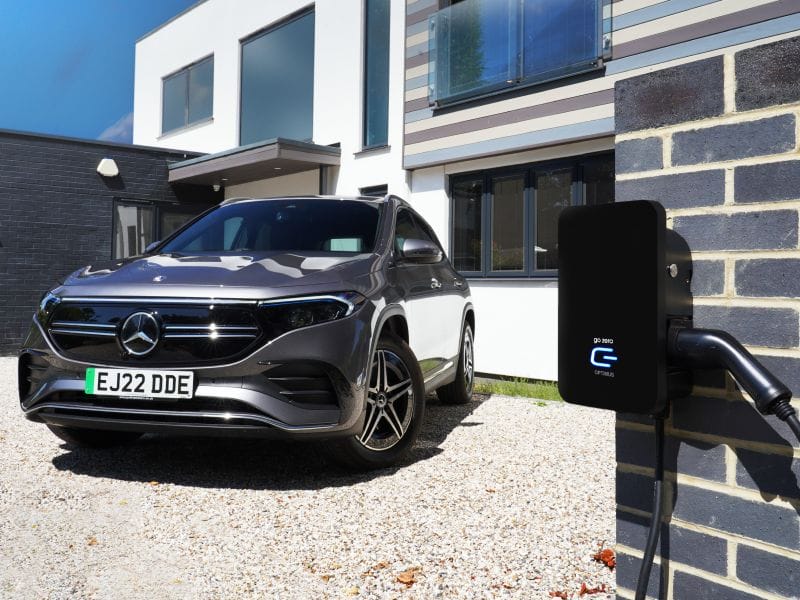 The charging experience is absolutely flawless, we found it difficult to criticise or flag any issues when charging our EV.
The GoZero team have connected the Optimus EV charger to the GoZero servers, which enables them to check every 60 seconds. From here, the heartbeat and live status are 'pinged" via the charging unit and sent to your app. This means you can check your charger is working at all hours of the day.
The charging itself is simple, just take the socket from the charging unit and plug it straight into your EV. You can then track your charging speed through the app and many other factors, such as electricity spend and usage in real-time.
The cable length comes as a standard 5m cable, but if you want to upgrade this, you can pay an extra £45 and get a 7.5m cable instead.
Dimensions & Specifications 
Brand – GoZero
Sockets – 1
Colour – Black
Wifi – Yes
Wattage – 7.4kW
Voltage – 230v
Dimensions – 340 x 200 x 116 (L x W x H)
The app is one of the major factors that separates this charger apart from the others. Straight away from the Optimus dashboard, you can see if your charger is working correctly due to its heartbeat, which is checked every 60 seconds.
The Go Zero server is connected to the Optimus through your home's wifi or 4G connection, so if anything were to go wrong, the GoZero team is aware of it and will contact you directly – sometimes before you even know anything is wrong!
You can also set multiple charging schedules to suit your day and energy tariff. You can set a charge for when the electricity cost is at its lowest, and the charge will stop when it returns to the higher price. That way, your only ever charging on an economical tariff.
It will also calculate how many miles of charge it will add, the cost of the charge and it will continue to stop and start charging depending on your schedule long through the night whilst you sleep, you don't have to worry about a thing.
If you want to earn money through your charger, you can opt to add your charger to the public Go Zero charging network allowing people to reserve in advance certain times to charge their EVs. GoZero will then pay you through the app. You can set the price per kWh and decide when it's available to the public.
Yes, the charger is solar compatible, so if you want to save money whilst creating sustainable driving, this is certainly the charger for you.
As you can tell from the Optimus EV charger review, we are big fans of this unit as it makes the charging experience effortless and enjoyable. It has great aesthetics with the matte finish, an outstanding app with a great interface that is easy to navigate and most importantly, the charging is fast and reliable. 
We would give this charging model a 9.7/10 because of all the things we just spoke about, not to mention the fantastic customer service support we received from the GoZero team. It may be new on the block, but we believe the Optimus will become a serious force within the home charging industry. 
If you want to read more reviews like this, head back to our main page, where we cover a range of brands.