How To Charge An Electric Car At Home With No Driveway?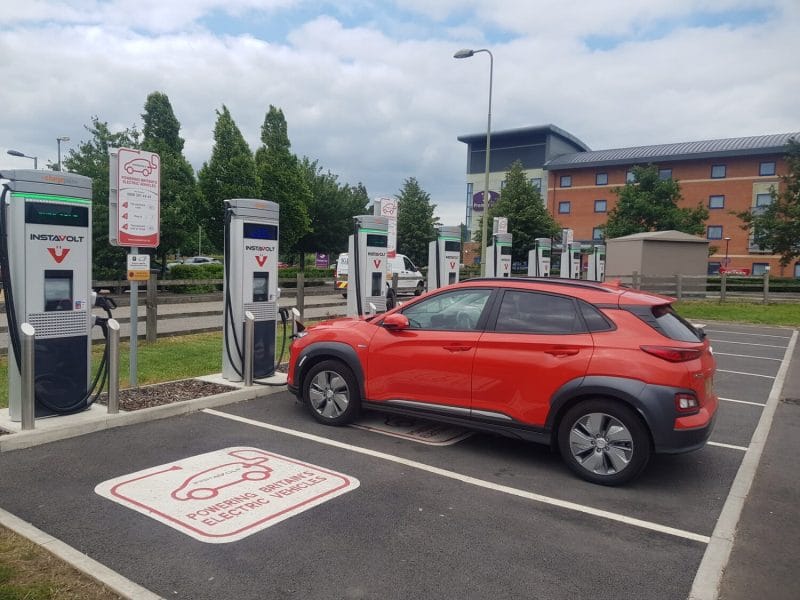 Owning an electric car is great, it saves you money and reduces your carbon footprint.
But what use is it, if you can't charge your EV?
Having a dedicated home charger is vital for allowing your vehicle to charge.
This is usually only possible if you have a driveway and we often get asked how do I charge an electric car at home with no driveway?
In this article, we're going to take a look at whether it's possible and how you can go about charging your car if you live in a flat or have no driveway.
Let's take a look…
How Do I Charge My EV With No Garage Or Driveway?
Home charging is usually straightforward, however, if you don't have a driveway or garage it can become that bit more challenging. You can plug your vehicle into a three-pin plug, although this will take a very long time to charge your car.
Another option is installing a weatherproof box outside your home or running a cable through the window, ideally with a cable protector although this can be dangerous and it's a bit of a grey area in terms of whether your allowed to as well explain further down the page.
How Do You Use Electric Car Charging If You Live In A Flat?
Unfortunately, it's very difficult to charge an electric car if you live in a flat. If you don't have a dedicated parking spot then you won't be able to install a home charger.
Your best option would be to use public charging spots daily if you use your car frequently, most likely at a local supermarket or residential street although these can take a lot longer to charge an electric vehicle.
On Street Residential Charging Scheme
If you are living in a flat or terraced house, for example, you can ask your local council whether they would be willing to install any public charging points on your street.
The government actually has a grant that helps local authorities with the cost of installing charging points on the street. Below you will see the different options available for charging electric cars:
Lamp Posts – This is where a lot of EV chargers are installed as they are convenient for cars to park next to and start EV charging.
Pillar Units – These could be added to the pavement to allow electric car charging.
Telescopic points – This is a charger that retracts back into the path.
Usually, EV charging using public points is quite slow. It depends on how much power is available from the grid in that local area. A lot are 3kW which is very slow and will require minimum 8 hours, whilst others will be 5kW or sometimes even 7kW. A cable will likely not be attached to the electric charging points, so be sure to bring your own.
Can I Use Public Charging Networks?
Public charging networks are a great way to keep your car topped up and with over 300,000 available across the UK, you should be able to find public chargers relatively close to you, unless you live quite rural.
With electric cars becoming more popular, the ability to locate charge points is becoming easier as more are installed up and down the country.
These can often be found on motorway service stations, supermarkets, hotels and shopping centres. They usually have rapid charging available as well, which will charge your electric vehicle quicker than if you were to do it at home.
It's recommended that you keep your EV charged between 20-80% as this preserves the longevity of the car's battery.
Can I Leave My Car Overnight At A Public Charging Point?
No, as it's not safe to leave your own charger unattended and also it's not fair on other EV owners who may need to use EV chargers in the middle of the night.
You should stay with your car until it's fully charged and then take it off and proceed with your day. Your local council will usually let you know how long you can use the charger for or you can ask neighbours who live on that street.
How Much Do Public Networks Cost?
It all depends on access and electricity costs. Some hotels, service stations and shopping centres will allow you to charge your electric car for free.
Whilst other places will charge as little as £1.50 an hour and rapid chargers will cost more as they charge at a faster rate, therefore, saving you time.
Some free charging points may ask you to prove a purchase in-store or have a time limit on how long you can charge your car for.
How To Locate Charge Points Near My House?
There are plenty of apps out there, that allow you to find parking and a charge point access for you to take your EV. These are just some of the apps you should consider:
EV Hotels – Hotels with charging stations or near hotels.
Google Maps – You can now search for an EV station and find ones close to you with real-time availability.
Plugshare – Shows stations from major providers in Europe, US and Australia.
Chargepoint – With over 100,000 available stations, it's the largest charging network for an EV available.
Chargehub – Shows public EV stations in Canada & US.
Can You Own an Electric Car Without a Home Charger?
Yes, you can most certainly own an electric vehicle without a home charger, there are no laws saying you must both. 
There is no denying that it's a lot more convenient to have a charging point and charging cable located close to or even next to your dedicated parking space so you don't have to do on street charging but it's not the end of the world. 
PodPoint did a survey and found that 60% of the time, people charge at home, whilst the other 40% is spent charging at public car parks, workplace charging and by using kerbside chargers with on street charging. If you are unable to use off street parking for EV charging, then you have to take full advantage of these avenues, whether they are the most practical or not. 
Is There a Portable Charging System for Electric Vehicles?
The first portable battery for EV's was available in 2021 by a company called ZipCharge Go and it allowed EV drivers who had range anxiety to pull over and charge up to 20 miles in under an hour, giving them plenty of time and range to get to the next available EV charge point.
It's the size of a small suitcase and is available in two sizes, 4 kWh to 8 kWh. All you have to do is bring it with you on long journeys and when you realise your running low, pull over somewhere safe and plug the car into it. This will give you the emergency miles you need to get to the next destination and do a proper charge. 
Charging And Parking On The Street
If you want to simply leave your car parked up on a road to charge, there are a few points to consider as you can see below.
Can I Still Use A Wallbox?
Normally, you would need a driveway as the charging cable from the home EV charger won't be able to reach the street. You can always check with your provider and find out the length of the cable, and then measure the distance you would have it installed to the street, that's if you have a dedicated parking spot.
Can I use Extension Cables With The Charger?
No, you should never do this as it can be potentially dangerous and cause a fire.
Can I Run A Cable Across My Pavement?
In theory, if you park right outside your house on the street, you can run a cable across the pavement. There are no laws restricting you, but the council do have the power to remove cables they think are a potential hazard.
The LGA advises that you are allowed to charge your EV using a cable across the pavement, but as soon as the EV has finished charging, the cable needs to be removed immediately. As we said, this is a bit of a grey area.
We would advise checking with your local authority as we know some councils don't permit it at all. It's also worth noting that you would be responsible for anyone who gets injured if they were to fall over the cable or a pram couldn't get by, then you would be legally responsible.
Last Word
We hope this helped with any queries you had about EV charging without a driveway. It's probably not advised to get an EV if you don't own a driveway as it becomes very difficult to charge, a petrol or diesel car might still be more convient. 
You end up having to charge your EV at public points constantly which can be more expensive and are far more time-consuming due to the power of the EV chargers.
For more on how to manage your electric vehicle, see our comprehensive list of articles. You can also see which excellent home charging point might be the right fit for your property.